Biography
---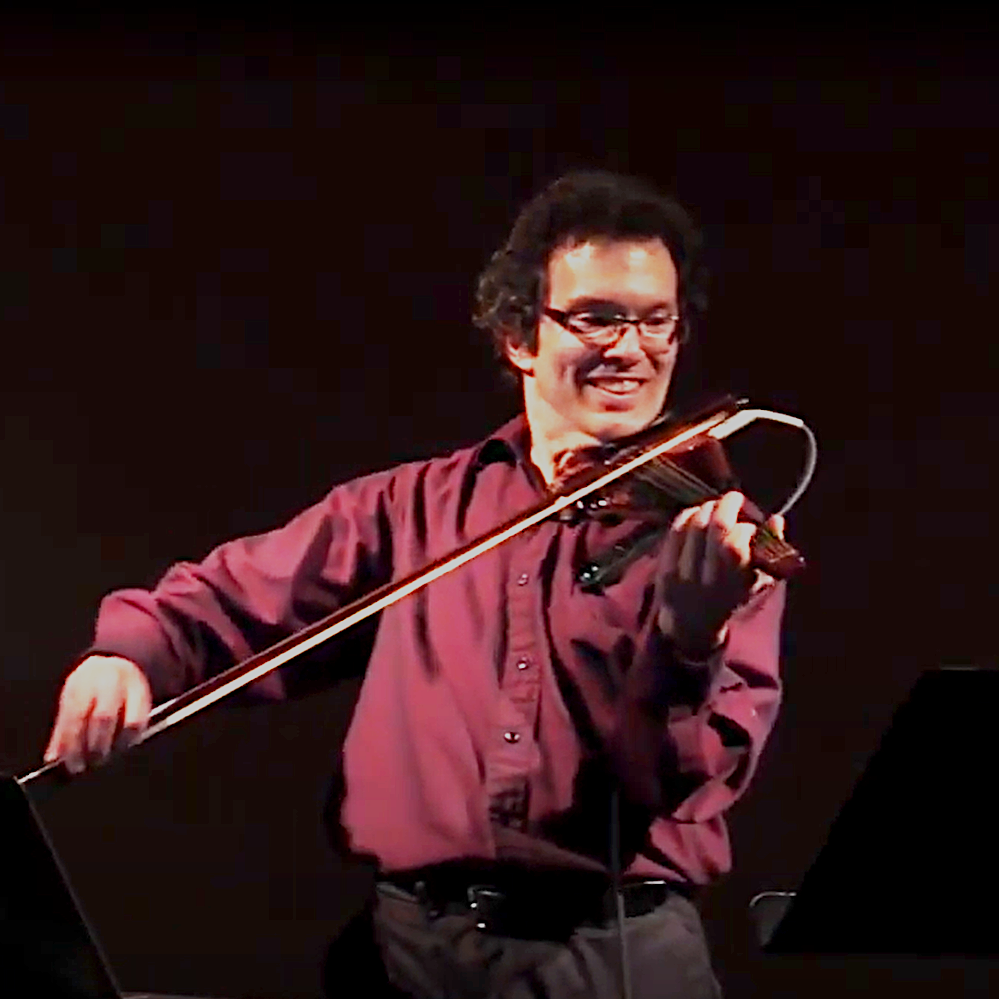 Composer Andrew May is best known for innovative instrumental works with live interactive computer systems, and has created numerous tools for statistical tracking and modeling of musical behaviors. Most of their works, however, explore issues of interaction in an acoustic context, using extensions of notational practice to celebrate the subtle and varied ways performers negotiate time and phrasing in chamber ensembles. This grows from May's life-long engagement as a performer, primarily on the violin (they also play mandolin, guitar, and viola da gamba). They present adventurous new and improvised music on acoustic and electric instruments, in contexts ranging from concert hall to art gallery to night club, including the Dallas-based global fusion group Trio du Sang, which they joined in 2018. Their violin playing has been recorded on CRI and Ravello Records. In addition to composing, coding, performing, and improvising, May is dedicated to presenting new music to new audiences, and is Assistant Director of the Sounds Modern series, which they cofounded in 2011. From 2004-2007 they co-directed the contemporary music series Atomic Clock Music Events in Boulder, Colorado, and they were a founding co-director of the Pendulum New Music series at the University of Colorado. May is Associate Professor of composition at the University of North Texas College of Music, where they served as the Director of UNT's Center for Experimental Music and Intermedia (CEMI) from 2005-2016 and 2019-2020.
May's music has been performed in Canada, Brazil, Chile, England, Scotland, Northern Ireland, France, Germany, Switzerland, Poland, Greece, Denmark, China, Korea, Japan, Singapore, and throughout the United States. Festivals and conferences that have presented May's music include SEAMUS National Conferences, International Computer Music Conferences, Third Practice Festival, New York City Electroacoustic Music Festival, Spark Festival, Kansas City Electronic Music & Arts Alliance, IMEB Synthèse Festival, Sound Festival, Bowling Green New Music festlval, Electronic Music Midwest, Florida Electroacoustic Music Festival, Sonorities Festival, Scarborough Electro Acoustic June in Buffalo, National Flute Association Convention, International Clarinet Association ClarinetFest, Festival de Nohant, China-ASEAN Music Festival, Darmstadt Summer Courses, LA Philharmonic Green Umbrella Series, New Music Circle of St. Louis, Southeastern Composers' League, Birmingham Art Music Alliance, and the Summer Institute for Contemporary Performance Practice. May's music has also been presented at major schools and conservatories (Peabody, Juillard, New England Conservatory, Curtis, Brown, Hartt, Dartmouth, University of Iowa, New York University, etc.) and museums (Modern Art Museum of Fort Worth, Boulder Museum of Contemporary Art, Dairy Center for the Arts, Ellarslie City Museum of Trenton, CU Art Museum).
May has written pieces for the Calliope Duo, the EAR Unit, the SONOR Ensemble, the Tornado Project, Canto Battuto, Clarion Synthesis, clarinetist F. Gerard Errante, percussionists Robert Damm, Vanessa Tomlinson, and Brett Reed, flutist Elizabeth McNutt, violinists Jonathan Dubay and Persephone Gibbs, the Third Unitarian Church Ensemble of Chicago, and the Yale Bach Society Orchestra. Their projects have received support from the Center for Research and Creative Work at CU Boulder, the Boulder County Arts Alliance,eff the Margaret Jory Fairbanks Copying Assistance Program, UC San Diego, and Yale University. May's music can be heard on Music from SEAMUS Volumes 9 and 15, Elizabeth McNutt's solo CD pipe wrench, Jeremy Baguyos's CD Uncoiled Oscillations, János Négyesy and Päivikki Nykter's Dedications 2 CD, CDCM Computer Music Series Volume 39: Music from CEMI, the Tornado Project CD, and Imaginary Friends, a solo CD of May's music for instruments and computer.
Born and raised in Chicago, May received a PhD from the University of California at San Diego, where they studied composition with Roger Reynolds, computer music with Miller Puckette and improvisation with George Lewis. They previously studied composition with Mel Powell and violin with Laura Kuennen-Poper at the California Institute of the Arts, where they received an MFA in composition and violin performance; and with Jonathan Berger, John Sichel, and Deniz Hughes at Yale University, where they received a BA in music (summa cum laude). They studied computer music at the Stage d'Informatique Musicale at IRCAM in 1998.